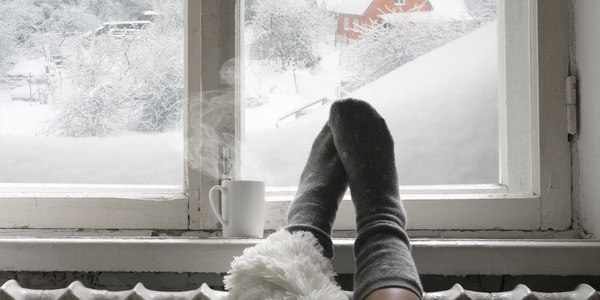 Must-Have Essentials for The Winter Season
When I think of winter, I think of warm sweaters, cozy socks, hot cocoa, and making memories with family and friends. If you're anything like me then you're a creature of comfort who enjoys a small collection of tried and true essentials that can get you by comfortably with effortless style and less planning during the winter holiday season.

Keep Warm in Style
A toasty sweater is a must-have for winter and if you shop just right you'll find a great one that's versatile enough to keep you feeling comfortable and cozy at home as well as looking effortlessly styled at any holiday party.
The key is finding one that's made with high-quality materials. While natural fibers like wool and cotton are better suited for keeping us warm without making us feel too hot when we're indoors you can also find high-quality sweaters made from fibers like polyester and acrylic. I tend to find the right styles from brands that are focused on offering high-quality staple pieces like Modern Citizen, Vetta and Quince. 
Birkenstocks and Cozy Socks
A winter must-have in my house are cozy socks. I live in thick, warm socks and I'm not ashamed to admit that I buy neutral tones just so I can wear them with my Birkenstocks (a recent style discovery that I think my husband secretly loathes). If I need to leave the house for errands or a grocery run I'm still warm, and comfortable and feel like I still look put together. I live near the Gulf of Texas so there's a lot of days in the winter I can get away with this look. My favorite socks that I've discovered this year is Barefoot Dreams and UGG. Barefoot Dreams are so super soft and designed in a way that they stay snug on your foot without sliding off or slipping too easily. The UGGs feel so luxurious and warm and look great scrunched up over the ankles no matter if you're wearing sweats, leggings, jeans or dresses. 
The Perfect Layering Piece For Winter Weather
One of my top buys this season was a shacket (hate the word but love the concept) because it is the perfect solution to make sure you're warm enough without having to wear a bulky coat. The shirt is lined usually with flannel or sherpa, making it the perfect layering piece. It's also great for those cold days when you don't want to wear a coat, but still need something over your shirt or sweater.
Easy Jewelry Styling Tips For The Holidays
These are some of my favorite styling tips when it comes to picking the right jewelry for any occasion.
Layer necklaces if you want to add some visual interest to your outfit especially if you're wearing a V-neck style.
You can also try layering two different styles of chokers together for an interesting look if you have a scoop or boat neckline and add a statement ring to complete the look.
If I'm wearing a high neckline or a boatneck style dress or blouse I usually skip the necklaces all together and opt for earrings with a little more glam and sparkle like raw black diamonds or herkimer diamonds. This creates a more polished look.
 Don't forget that Pearl earrings are always a classic choice for holiday parties, especially when you're looking to dress up a little bit more than usual!
An Effortless Blouse For The Holidays
This is a staple garment in my closet for the holidays. My go-to piece for effortless style is my Gathered Sleeve Wrap Top in emerald from Vetta. It comes in three classic colors all made from super soft Tencel. With 5+ different ways of styling it, I absolutely love that I can reach for it again and again and wear it differently depending on the dress code of the party. I can make it look edgy yet sophisticated with black faux leather pants and heels or effortlessly polished with nice jeans and heels. I always feel good and so put together in this beautiful and buttery-soft blouse.
Nail Polish That Never Lets Me Down
My nails are typically the only place I can do bold colors. When I say bold it's strictly jewel tones and by jewel tones I mean a rich hue of cool red. My go-to color is OPI Miami Beet. The color is beautiful and lasts for weeks. For my fair skin (read: very pale), it's the perfect cool red color that compliments my skin tone and looks gorgeously festive all season. Try d
ark reds or burgundy shades if you want something darker. This will be more appropriate for winter and will help you look polished and festive!
Superfood Hot Cocoa: Like a Hug from Grandma
I saved this for last since it's not something you actually wear but indulge in nonetheless. Every year when the weather drops, I look forward to making my favorite hot cocoa drink. Not only is it really tasty and comforting but it has some amazing health benefits from the
 cacao like magnesium and antioxidants.
Debra's Favorite Superfood Hot Cocoa: 
-2 1/4 cup of your favorite milk
-1/8 tsp turmeric (optional)
-dash of cayenne (optional)
-2 scoops of vanilla collagen peptides
-splash of maple syrup or honey
Slowly heat ingredients in a saucepan on the stovetop on medium heat and serve in your favorite mug. Relax and enjoy!
The holidays can be a stressful time, as we try to balance all the planning, expectations and needs of our friends and families with those of our own on limited time. So have courage, friend—I find that having a few good winter essentials that you can reach for over and over again to bring comfort and reduce stress is a great way to get through the season feeling warm and bright.
Update Your Jewelry Collection For the Holidays
Update your holiday wardrobe this season with beautiful and unique hand-crafted jewelry made just for you and your loved ones. If you're needing inspiration our
Ultimate Holiday Gift Guide
is the perfect shopable catalog to find you next favorite jewelry piece for you and your loved ones.