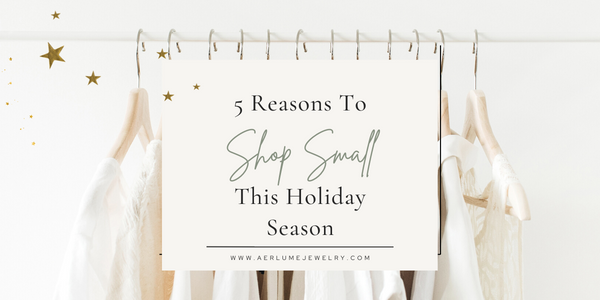 Why Shopping Small Is Better This Holiday Season
The holidays are just around corner and that means holiday shopping! Do you typically shop from larger retailers or smaller local businesses? Owning a small business these past few years has proven an even bigger challenge for makers and independent shop owners so today I'm sharing my top reasons for supporting small business this holiday season.
As a lover of small business and owner of my own small hand-crafted jewelry shop, I find shopping local much more rewarding and beneficial. Supporting local businesses during the holidays is a great way to celebrate an experience as opposed to just another product and it's also a great excuse for friends and family to get together and support their community. Here are 5 great reasons for you to support small businesses this holiday season!
High-Quality Craftsmanship
Small businesses are stocking goods often made in small-batches which means extra attention and detail goes into the making of those goods. The jewelry I sell in my online shop is all hand-crafted by us one piece at a time then carefully and beautifully packaged for each customer. This is far more personalized and involved than purchasing jewelry that came from a mass produced assembly line. 
Make It Unique
The big box retailer business model is to stock the same mass-made item in all of their stores. Small businesses are carefully curating their selection, often with items hand-picked by the owners, of goods that you can't find just anywhere making your gifts that much more unique.
Make It Thoughtful
There's something special about unwrapping a carefully crafted handmade item. The pretty packaging, little thank you notes and a sense that this item was specially made for you by another real-life human being (likely in your region) make that gift much more unique and thoughtful. This isn't something you get from a big-chain retailer.

Support Your Community
When you shop small, you're supporting someone's dream and your community. More money gets circulated back into the local economy from local businesses than from large corporations. As the saying goes, "Amazon doesn't support your local soccer team!" Big corporations are largely focused on their bottom line.
By supporting small and local businesses, you get to know the humans behind them and their individual stories. You'll receive a better shopping experience while looking for unique and thoughtful gifts for your loved ones and you'll be making a difference in your local community. I encourage you this holiday season to seek out those small businesses and attend your local holiday markets where you can find some of the most talented and up and coming makers in your area. If you're in the Houston area, you'll find us popping-up at these
holiday markets
in the coming weeks.
Need Some Gifting Inspiration?
Whether you're shopping for yourself or a special someone, our Ultimate Gift Guide will help streamline the entire gift-giving process this holiday season. Shop our gorgeous hand-crafted jewelry line directly from our beautifully curated PDF. As an added bonus, it includes an exclusive discount code for checkout on Black Friday!
Get our
Ultimate Holiday Guide Here
!